The Biodrier Executive is packed with features that make it our most sophisticated dryer yet. Its contemporary design and four colour choices will add a high quality finish to any executive washroom. The LED display on top of the dryer counts down the hand drying time and indicates when the drip tray and HEPA filter need to be changed. This is a simple process that does not need a technician, unlike some of our competitors products.
Biodrier Executive Features
NEW – Brushless motor – long lasting and energy efficient.
NEW – Optional Antibacterial UV eradicates offensive odour, bacteria, mould and viruses.
NEW – Optional Intelligent Motor Diagnosis – Gives feedback on time and when planned maintenance needs to be carried out.
Dries hands in under 10 seconds. • No touch activation using three infrared sensors.
Energy efficient – uses the heat from its own motor to provide the warm air used to dry your hands. Uses 90% less energy than a conventional dryer!
LED display – drying time count down and maintenance prompts.
H13 HEPA filter – part of a triple air filtration system.
Minimises noise with an inbuilt absorption module.
Gel block – moisturises hands, sanitizes the unit and freshens washroom air.
Drip tray catches excess water that is blown from the hands.
Cleaner & More Washroom Friendly.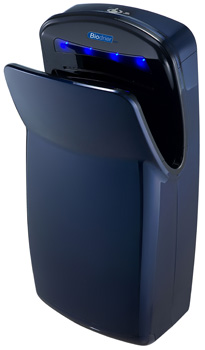 Simply place your hands in to the dryer and the three infrared sensors will start the hot air, producing gentle yet powerful gusts that provide high-speed hor air to both sides of your hands, 10 secs and your hands are completely dry.
Consuming only 1200 watts of power combined with the shorter drying time saves you money whilst reducing your carbon footprint.
The Bio Drier Executive is the ultimate hand drying experience, ergonomically designed to be stylish & elegant whilst unbelievably quite with a relaxing fresh air aroma. It's vital statistics make it an obvious choice for facilities and purchasing managers looking for a cost-effective long term solution.
Contact us 0870 871 00 22 to find out more about our full range of hand driers.